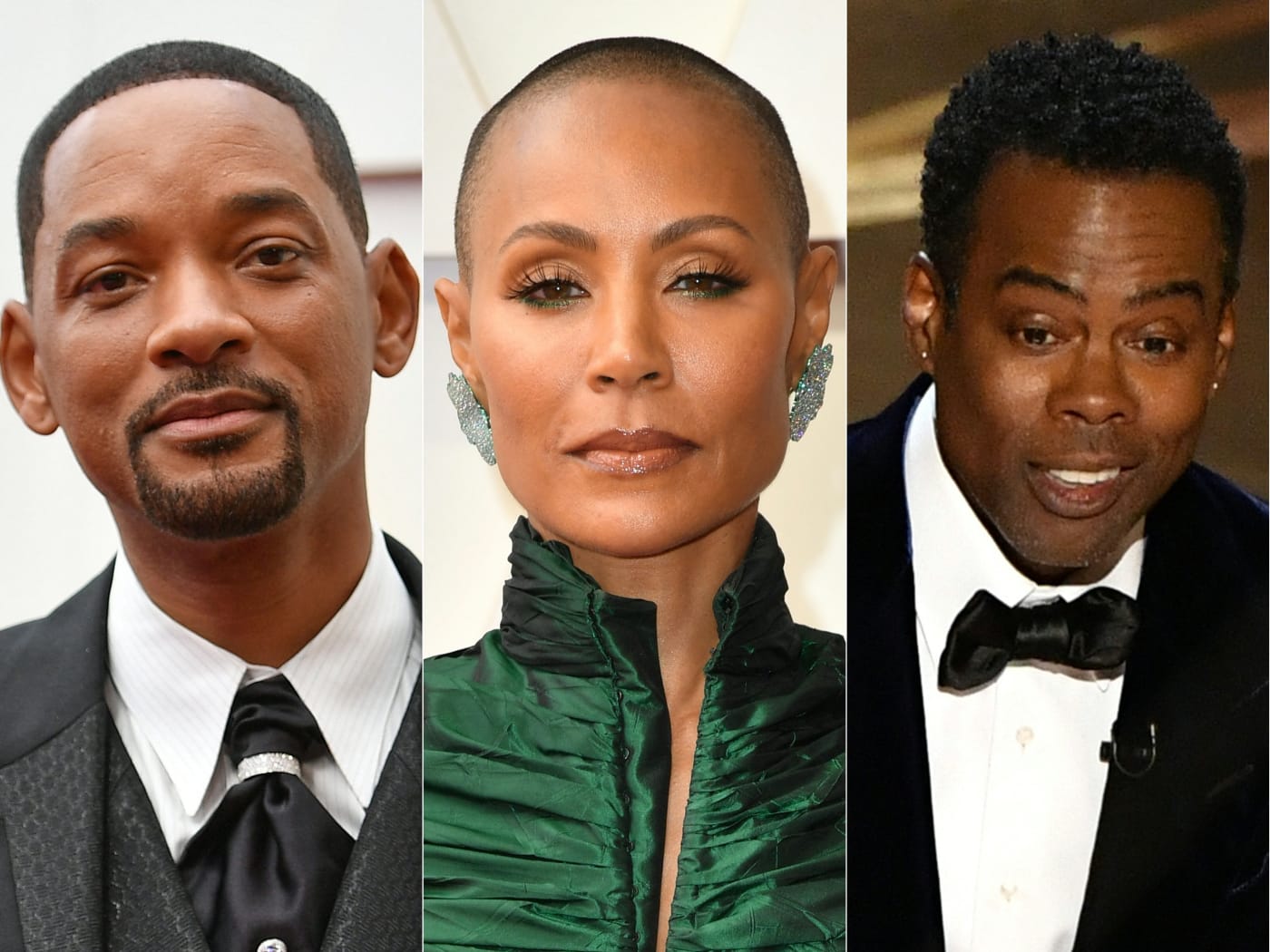 (L) Will Smith, Jada Pinkett Smith, Chris Rock
Just as my family and I were about to turn off the 94th Academy Awards ceremony televised live on ABC, something happened that should lead to the permanent cancellation of all future shows. Will Smith walked up on stage during the live show and slapped the taste out of the mouth of Chris Rock for making fun of his wife Jada Pickett Smith's haircut. Jada had discussed in the past that her hair loss was due to a medical condition called Alopecia.
The medical condition notwithstanding, what went down at this year's Oscars was an affront to the legacies of Paul Robeson, Sidney Poitier, Harry Belafonte, Dorothy Dandridge, Eartha Kitt, Spike Lee, and many others who paved the way for Smith and Rock to represent the best that America has to offer in comedy, acting and entertainment. Instead of making us proud, they embarrassed us. They embarrassed themselves, their families, and in Will's case, the entire Williams family. Throughout their careers, the Williams sisters have been met with insult, double standards, and outright contempt from white fans (like at Indian Wells a couple of decades ago). In many regards, they made tennis a sport fit for TV—and thus a bonanza for bringing in advertising revenues.
This year's Oscars was supposed to be a night when the genius of the self-made quirky Williams got redeemed before the world. Instead, we got a meltdown before the cameras by an assaulter who ends up referring to himself as a "crazy father." By prioritizing his ego and need to defend his wife over a joke about her hair, Smith stepped on his own blessing. It is not that hair, or the loss of it, isn't important. Hair of all lengths, textures, and styles has cursed, divided, and caused millions of dollars to be transferred out of the African American community. The redirection of this wealth has been into the bank accounts of other racial and ethnic groups that had enough business savvy to capitalize on our multigeneration hatred of ourselves—particularly our hair.
I am not going to create a false equivalency or introduce silly whataboutisms. Will Smith was dead wrong. No what about what Rock said. No bullshit from Tiffany Haddish about, "I am proud that a Black man defended his woman." A man is a man when a man is needed. At a time when so many young Black men can't settle disputes without violence, and in many cases, deadly violence—the last thing we need to telecast around the world is two successful, Black millionaires fighting on live TV. Physically striking another is a crime and when such a crime is committed before our very eyes, it sends a message that it is ok to be contemptuous of the law.
Will Smith committed a crime not just against Rock, but against our community, against civil society. And for this reason, whether Rock presses charges or not, Smith should be prosecuted. If for no other reason, the local solicitor of L.A. should prosecute him to send a strong message to youth who are ensnared by our criminal justice system that no one is above the law. If we let wealthy celebrities get away with committing indisputable crimes with the whole world watching, it further erodes trust in a criminal justice system that already has credibility issues.
The vulgarity that Smith used knowing that his language would be picked up around the world, notwithstanding America's phony censorship of it, showed he was completely out of control psychologically. It was painful to watch him shouting F-bombs at Rock, crying uncontrollably, and proffering weird rationalizations when accepting the Best Actor Oscar.
It transported me back to times in our ugly past when white women were perched atop pedestals and their "gentlemen-husbands" protected their chastity and purity from all "undesirables," particularly those once enslaved Africans. It surfaces Black memories of crazy cousins who kill their own kind for peeing in the presence of their wives. Other than murdering, beating the shit out of, or slapping down another before a world audience, what should Black men be doing to protect Black women? Should they speak out against all forms of rape? Should they fight for women to receive equal pay? Should they learn what patriarchy is and their roles in maintaining it? Isn't there a way of loving and defending our significant others besides stooping to America's stereotypes of tough masculinity and dainty femininity?
Although Will Smith fucked-up big time, Chris Rock was not a true victim. For sure he made his career by being irreverent and proudly politically incorrect. But I always thought that the best tradition of great comedy was to poke fun at the mighty, the powerful, the hypocrites—not the vulnerable. Alopecia is a condition where one loses hair, and the doctors don't exactly know why. If you are a man or if you live long enough Alopecia will probably visit you one day. In fact, my wife tells me it is already at my door with my receding hairline and bald spot in the back top of my head. But I am a man and have never measured my looks or worth by the length and texture of my hair.
It is different with women. When Alopecia visits like in the cases of actress Jean Pace, Rep. Ayanna Pressley, and Jada Pinkett Smith it is often devastating. Rock is so good at what he does he does not need to make cheap jokes at the expense of those who are suffering or recovering from physical or mental stress. If he was poking fun at a man or woman who lost hair because of cancer, it would be obvious that he was out of bounds.
In many ways what happened at this year's Oscars points to the absurdity of the ceremony in the first place. How can you legitimately pick winners and losers with so many great artists, productions, stories, and new distribution formats like video streaming? It is no mystery why the most memorable moments in Oscar history are those shockers that, ironically, many times involve people of color. I recall in the 2002 Oscars Hallie Berry being mauled by a full-throated kiss in the mouth by Adrien Brody. I am still fuming over the screw-up in 2017 over Moonlight's Academy Award for Best Picture being mistakenly (some believe falsely) awarded first to La La Land. Then, who will ever forget in 1973 the native American woman, Sacheen Littlefeather, declined the academy award for Marlon Brando because he rejected how Hollywood depicted the American Indian in film and television, and how America still treats Native peoples. Brando stole the moment without having to throw a punch.
By throwing a punch, Smith stole everyone's, including his own, 15 minutes in the sun. Too bad Ahmir "Questlove" Thompson's brilliant documentary Summer of Soul, got overshadowed. Sorry queer, Afro-Latin Best Supporting Actress winner Ariana DeBose didn't get her due for her marvelous performance in Westside Story. Above all, it is a damn shame that Tyler Perry's tribute to the great Sidney Poitier who joined the ancestors this year will not be remembered. One humiliating slap caused all this damage. Let's pray that the "crazy father" gets the mental health help he desperately needs.