The super city councilman nurtured young public officials and fought the powers that be.
My comrade, mentor, friend and unconditional supporter you have gone home. Not the earthly home, but a place where you will find eternal refuge from Parkinson's and troubles of this old world. John, sweet like sugar, the red diaper warrior who always fought the right fights whether for constituents opposing neighborhood dividing highways, uncompensated and disabled workers whose rights had been trampled by unscrupulous bosses, or environmentalists trying to save our earth. You showed up big time and often came pro bono.
You helped me/us discover a new world of electoral politics. Before then we thought political participation was shouting in the faces of racist chancellors who did not want us in flagship institutions of lower learning. I thought it was writing and reciting revolutionary poetry to the African beats of Bolaji, King Farouk, and Kole at Herndon Homes and Washington Park. I thought it was fusing spoken word with the funky Jazz of Ojeda Penn and Dawn's Early Light (later known as Brick) at Marko's and a hot new junior college on the south side of the city.
We set out to save the world with the zeal of Amiri Baraka and the Last Poets of Harlem. You tapped to the beat of the congas and lost yourself in the polyrhythms of music that fed your soul. What we were doing back then was all good to you, but you and Maynard taught us that throwing stones from the back lawn was not the same as making public policy inside the big house. You passed on to us the key even though you had just arrived.
You knew how to fuse grassroots activism with legislating progressive change. And when the city council would not heed your warnings, you preached to the lights in the old council chambers. You were arrogant, eloquent, righteous, and strident—all for the good of a silent majority who thought they had no tongues. You spoke, blessed, lifted, and inspired them—the least of these, our brothers and sisters.
Some didn't understand why you left a safe district council seat to take on a career politician who you knew so well up-close. You understood there were two ways to bring about meaningful change. One is to offer yourself for public service; the other is to eliminate deadweight before it rots and takes you under. You, Midge, and the bi-racial coalition you stitched together almost pulled it off.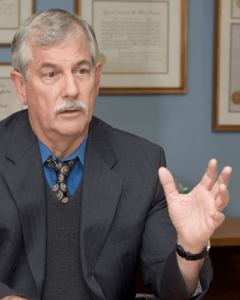 What I remember most are the private moments when you mentored me on how to be a good public official: Always publish your calendar so your constituents know the work you've been doing in their behalf. Send out regular newsletters so each community in your district can monitor your progress. These are things we take for granted now but 30 years ago, the idea of elected officials specializing in serving citizens and communicating routinely with them was not common at all.
You brought early innovations to campaigning like targeting, smart marketing and disciplined fundraising. I remember you saying, "I will never send a candidate into a campaign without the financial resources to win." And you kept your word, sending us Jim, Benny, Ruth, and seasoned activists from Inman Park steeled from battling the presidential parkway.
You had foresight into where this city was heading. No doubt you knew when you left your district seat it would be filled by a young person of color. Bill Campbell was not only smart like you, but he was ambitious, skilled and savvy enough to leverage the 2nd district council seat into the seat of the mayor. No other district council person had done that in decades. You cleared a path so it could happen.
You never sought the spotlight but discovered others like Mary Margaret, Lee, Nan, Starnes, me, and many others and pulled us from the shadows into the light. All you asked was that we be honest and always work for the public good. There is an African saying befitting now: It's alright to forget the good things you've done for others; it is unforgivable to forget the good things others have done for you. Thank you, John Sweet for all you've given and done for us. Rest in Peace, sweet brother.