Looking back at meaning of writing Jabari Simama Speaks
I thought as we end another year, the year of 2019, you might find of interest how others reacted to Jabari Simama Speaks columns. First, this year over 4,000 individuals read at least one column. This is up from 3,316 in 2018, an increase of 17%. Readers logged onto the site from around the world. In order of rank, the top 7 countries are: 1. United States, 2. India, 3. United Kingdom, 4. France, 5. Tanzania, 6.  France, and 7. China.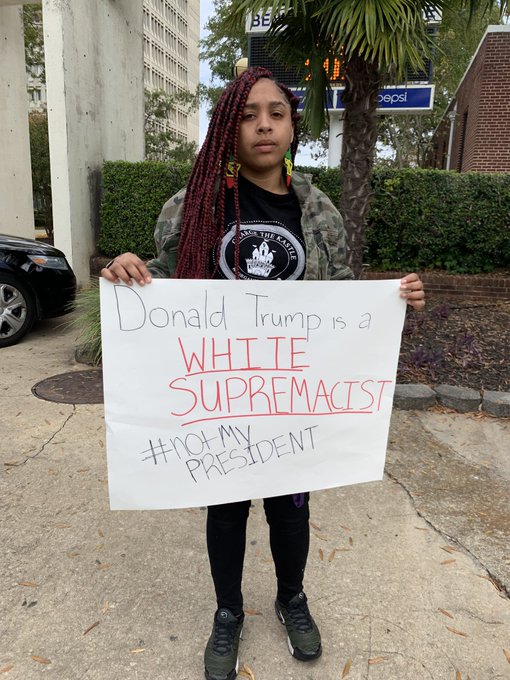 45 Trumps Benedict College
Of all the stats captured, the ones most interesting are the ones that document who is reading what. "45 Trumps Benedict College" (https://jabarisimama.com/2019/10/31/45-trumps-hbcu-benedict-college/) was the most read column. This column dealt with the historical black college's locking down students in their dormitories as 45 visited Benedict and the Trump White House took over an alleged bi-partisan awards program honoring 45 for his contributions to justice. Yes, you heard it right—Benedict College allowed its campus to become a venue for a farcical, trumped-up event claiming to honor leaders who have made outstanding contributions to justice. Sorry Benedict apologists; this was just wrong.
Chickens Come Home to Roost
The second most read column was, "Chickens Come Home to Roost" (https://jabarisimama.com/2019/09/19/chickens-come-home-to-roost/) about the unceremonious dumping of Atlanta School Superintendent Meria Carstarphen. The school board decided against extending her contract beyond June of 2020. This column stimulated much reaction for, and against, her. Some readers accused me of being sympathetic to Dr. Carstarphen. We suggest they reread the column carefully to pick up on the irony. The charter movement, as a whole, does more harm than good for public schools. Notwithstanding the reality that many public schools are failing, public and private charters sometimes don't do any better and often are not held accountable like traditional public schools.
We need to revolutionize public education systems in America which are based on the needs of a bygone industrial era in America. This is a tall order that entails many radical changes such as: revamping teacher education, substantially raising the pay of teachers to attract the best talent, and aligning the school year with the work year and providing parents paid leave to participate in their children's education. Curricula should also be modified to take into account that not all kids are, or should be, college bound. Public schools must help students select pathways early in their education and support them in staying on track.
Also, students need liberal arts to build within them strong character, humanistic values, and critical thinking skills while, at the same time, technical skills such as advanced computing, robotics, and digitization. The goal in education should be to develop contributing citizens who are committed to family, community, and the economic health of society. Reflecting back on the educational philosophies of both Booker T. Washington and W.E.B. DuBois, we can see today that they both were right—we need artists and artisans.
Above all, we need to get beyond the bias that a student graduating from Morehouse College, making $45,000 a year as an accountant is inherently better off than a graduate from community college making $45,000 a year as an auto-mechanic, plumber or welder. There should be dignity in all work, and public education must ensure our students are both college and career-ready at the end of their pre-K thru 12 education.
Why I ran for City Council?
The third most read column was "Why I am Running for City Council." (https://jabarisimama.com/2018/12/07/why-im-running-for-atlanta-city-council-again/). Thirty-two years after I was elected Atlanta City Councilman, District 3, I attempted to win the seat again after a productive career of being a college president, chief operating officer in DeKalb County, and chief of communication for the city of Atlanta. The landscape had changed quite dramatically because of gentrification and social media. In 1987, African Americans comprised about 92% of the registered voters in the district. Today, 32% are white voters, and although they do not make up the majority, they have become important swing voters.
In 1987, we won by merely targeting high frequent voters. Now targeting must be augmented with social media, slicing and dicing voters based on issues that matter to them (down to the neighborhood and precinct levels). Voters around Georgia Tech, for example, worried about being buried in the shadows of Atlantic Station. Voters in Vine City and English Ave. fretted over big developers changing the character of their neighborhoods forever. Dixie Hills, removed from the sight of the Mercedes Benz Stadium and the Westside Beltline, just wanted to be noticed and served.
While our campaign targeted voters with a general message in the 2019 Special Election, social media experts targeted discreet messages to select voters who were active online. This turned out to be decisive. Losing the election was not an entire wash. It brought home an awareness that one could serve Atlanta City Council without being a member. Many of the newer council members, the new turks, enjoy, and would greatly benefit from more frequent interaction with seasoned, past and present, leadership. For one, I plan to do my part.
We must move past kneeling
The fourth most read column (and the last one upon which I will comment), "We Moved Past Kneeling" (https://jabarisimama.com/2019/08/20/weve-moved-past-kneeling/), criticized Jay-Z for getting into bed with the NFL. Of course, there are many reasons why one would criticize the NFL. Let's start with the violence and injuries. The League has made strides to curb violence of late, but still too many high school, college, and professional football players sustain career-ending, life-changing injuries, or death.
This, coupled with the exploitation of college athletics, where Division I schools serve as unpaid farm leagues for the NFL, calls for major reforms in professional sports. As a former college football player, I know that college athletes are nothing more than unpaid indentured servants. Many do not finish college because of the heavy demands of practice and competition.
In addition, if a college football player happens to be caught with a new pair of shoes or a suit, courtesy of a promoter or recruiter, then that athlete is subject to disciplinary action up to and including, expulsion. Also, colleges get fined heavily or excluded from playing in lucrative post-season bowls. Many college athletes come from low-income communities and households and would have trouble affording to dress appropriately for many formal college events they are expected to attend.
Further, the NFL today is not much better than the plantation system of yesterday. If a black athlete kneels or expresses a political point of view, he is immediately grey/white listed (anything but blacklisted . . . always associating black with badness is not good for the psyche of black kids) by the league or the U.S. president's hateful rhetoric (e.g. Colin Kaepernick). The NFL is one of the most segregated institutions in America. With all of the great black, professional football players, now and down through the years, you would expect to see more than a handful of black coaches and managers, not to mention owners.
A personal favorite column of mine, not among the top four, was "Pose: The Category is Love." https://jabarisimama.com/2019/08/30/pose-the-category-is-love/ The popular FX series is not just about gay men and transgender women. It is about family, survival, love, and death. It is about how oppressed communities form unique subcultures as a refuge from pain and rejection by the dominant society. In episode six of season two, the main characters perform one of the best renditions of Stevie Wonder's, "Love's in Need of Love Today." The category is and has always been—Love.
There are many stories waiting to be told from our experiences. We must share our perspectives and views so that our voices are heard. The argumentative essay is a genre best suited for this. Nine hundred words can change a mind.
Changed minds, moved to action, can change the world!